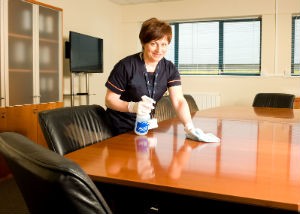 It is no secret that any office environment needs to be clean so that both employees and visitors feel well when they are on the premises. If you need to find someone that is reliable enough to keep your office spotless, trust our company. Our office cleaning service in Cricklewood is designed for office buildings, no matter how big or small. We have plenty of experience, we are skilled and we use effective cleaning equipment. Our company is a pro in cleaning with many years of experience. We have the know-how and a desire for work. Nothing will stop us from transforming your office space. Make sure to book a service.
We care about our clients and we want them to be happy and delighted. For this reason we go above and beyond to yield satisfactory results. Without a doubt, our office cleaning service in Cricklewood meets the highest criteria and is always conducted in a professional manner.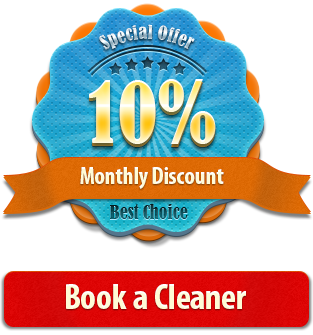 Domestic Cleaning Services
Prices
Regular Cleaning

£19

/h
One off Cleaning

£20

/h
Deep Cleaning

£20

/h
Bathroom Cleaning

£20

/h
Kitchen Cleaning

£20

/h
Professional Office Cleaners in Cricklewood
"We decided to use the office cleaning services provided by this company and now we rely on the cleaners to keep our working place hygienic. They come twice every week to sanitise our office and the work they do is excellent." – Freddie
Our technicians have been cleaning office buildings in Cricklewood for a long time. They know the area very well and they also know what to expect from our clients. We are committed to fulfilling customers' requests, that's why we always listen carefully to what they have to say. We realise you have your own schedule and are time-constrained, we are ready to adapt our working hours to yours.
Since all offices are different and customised to meet the business' best interests, we also provide a flexible cleaning service. We offer you a detailed task list that you are able to change according to your personal preferences and needs. We usually perform the following tasks in an office:
Cobwebs will be removed from all corners, ceilings and walls
All surfaces will be dusted ( including the tops of computers, cupboards and doors)
Office upholstery will be vacuumed (steam cleaning possible upon request)
The office kitchen will be cleaned – sink and taps, all utensils, kitchen appliances etc.
The toilet and its seat will be cleaned and disinfected
The sink and its taps will be cleaned and disinfected
All rubbish will be removed
All carpets will be vacuumed (steam cleaning available upon request)
Office desks will be dusted, polished and disinfected
Office chairs will be vacuumed and cleaned
Computers, keyboards, computer mice and cables will be thoroughly disinfected
All common areas will be dusted, cleaned and disinfected
Door knobs, door handles, light switched and other frequently touched objects will be disinfected
All floors will be vacuumed and mopped
Office Cleaning Services Cricklewood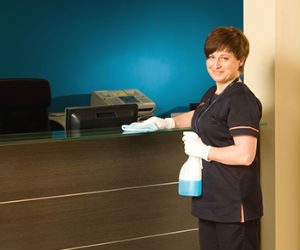 It is extremely important to maintain the clean condition of our office spaces. It will improve productivity among employees, provide a healthier environment for working and ensure safe and clean space.
What is more, anyone who comes to visit your office – client or friend, will be impressed with the state of it. We all know that first impressions are very important and what could be better than a flawless first impression for your business.
We understand that you may be busy and not find enough time to properly take care of your working space. However, it is extremely important to keep our working areas clean and sanitised. A large amount of people touch and use different objects daily. There is a frequent income of dirt from the outside and germs can be found everywhere. In order to keep everyone safe and provide a proper, healthy working environment we suggest you take advantage of our offer. Our Office Cleaning service is the best solution you could find. All members of our team are very experienced in the professional cleaning service and will come equipped with everything that might be needed for the proper and thorough sanitisation of your office.
About our company:
Our service is customer-oriented
We have a call centre that addresses all your needs
We operate from Mondays to Fridays, plus bank holidays and weekends
Our rates are competitive
We are very committed
The best advantage you can benefit from by booking us is our flexible working hours. We have been working for corporate clients for many years now and we understand how important it is to not be disturbed while working. This is why our service is available any time – before or after working hours. This way we can come and do the job without causing any disruption to the cleaning process.
We also offer:
Friendly and professional customer service, available 7 days a week for your convenience. The office agents are able to give you advice, help you with the booking process and give you a free quote over the phone.
Professional employees with a lot of experience. All members of our staff have a personal approach to the tasks they perform and have been professionally trained. They are reliable and will make sure to spare no time or effort.
High quality products and equipment. We managed to invest in ourselves and all tools that our cleaners come with are the best on the market. They are extremely efficient and for your convenience – included in the price.
Eco-friendly products. All cleaning solutions that we use when performing any of our services are biodegradable, non-toxic and 100% safe for human health. We avoid using harsh chemicals so you can rest assured your children and pets will be safe.
Flexible working hours. All our teams are available 7 days a week, including all holidays. We know that most people nowadays are busy and we aim to fit everyone's schedule in the best way possible. Do not hesitate and call us.
Affordable rates. It has been our mission to create cleaning services that are available and affordable to anyone who might need them. We worked hard and now we are proud to offer you great quality services for reasonable prices.
To receive more information feel to call 020 3745 5245. Our call centres work every day of the week, including all holidays. The office agents there will be able to assist you in every way and give you a free quote over the phone.