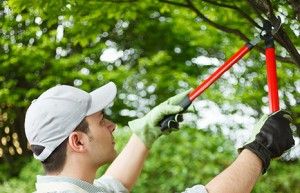 Having a garden gives you the opportunity to have an amazing relaxed time with your family and friends, enjoy a barbecue or simply have a cup of tea and read a book. Whatever it is that you like to do in your free time, the garden gives you many possibilities to have quality time at home. However, it's not that easy to maintain a nice garden. It takes a lot of effort and time in order to properly take care of it and keep it in the good condition you wish it to be in. Many people can't find all the time that is necessary, and often leave their garden unattended, allowing it to lose its beauty. Don't let this happen to your garden, especially if we have the perfect solution for your problem. Book our professional gardening services and let experts maintain your garden for you. This way you can easily and effortlessly enjoy a lovely garden and have a wonderful time at home.

Gardening Services
Prices
Lawn Mowing
from

£45

/h
Hedge Trimming
from

£45

/h
"I never trust someone I do not know help me in the garden but I changed my mind when I saw the perfectly trimmed hedge of my neighbour and the beautiful flowers you planted last autumn." – Brandon
Gardeners Cricklewood
We are a reliable company, which has been operating in London for many years. We have a lot of experience, which has given us all of the knowledge and practice we need to be a leader in the gardening business. What we, at Cleaners Cricklewood, care about the most is to make our customers happy. We do our best to keep them satisfied with our services and make them fall in love with the results. To achieve this goal of ours, we took a lot of time to learn exactly what our clients want and we have been providing them with it ever since.
We managed to develop our business and expand the list of services we provide. We also invested in ourselves and all our gardeners use only high-quality professional tools and equipment. You can trust them with your garden since they have been doing this for many years and know how to handle any issue in the best way possible. Here is a list of all gardening services we provide:
Lawn mowing
In order to have your garden looking its best, you should regularly mow your lawn. The grass starts growing faster when the winter is over and the warm months come. It is important to cut your grass not only for the good looks of your garden but also because it improves its growth and overall health.
Turfing
If you have always wanted the shiny, green, healthy looking grass we see on TV, but never actually had it, we have the perfect solution. We offer you our turfing services. We are able to lay down real or artificial grass in your garden and provide you with the best lawn in no time.
Tree pruning
In order to maintain your trees healthy and help them bloom and grow properly, you should prune them every year. Pruning is not an easy task and should be performed by professionals. Pruning your trees in the wrong way or at the wrong time may cause a lot of damage to them.
Hedge trimming
The ultimate neat, clean looks of your garden can benefit from freshly cut hedges. Whenever your hedges are overgrown or out of shape, call us and let us take care of it. All hedges need regular maintenance otherwise they will prevent the sun from coming into your garden and generally give out unkempt vibes.
Overseeding & fertilisation
If the soil in your garden is not as fertile as you need it to be and you have been struggling to grow certain plants, worry no more. We are able to fertilise the soil and make it rich and healthy. There will be no more dull plants and the flora in your garden will thrive more than ever.
Edging
No lawn is finished without the proper edge. A good edge will give you the sharp, neat looks that you want for your garden. We are able to cut around the edge of your lawn and make everything look tidy and well taken care of.
Weed control
If you fail to regularly maintain the condition of your garden, weeds have possibly taken over. Our technicians come with all kinds of weed-killing products. They will remove all unwanted weeds and apply the solution to the area. This will prevent them from growing again. Do not worry, all products are absolutely safe for human health.
Planting
Are you willing to get some new plants for your garden but are not sure how to plant them properly? We got you! Our gardeners are able to plant new flowers and plants anywhere in your garden. They can install new flower beds and help you maintain them healthy.
Garden Clearance
After the winter there could be a large amount of leaves and other green waste found all over your garden. Give your outdoor space a new look and prepare it for the warm months with the help of our garden clearance service. Our gardeners will remove all unwanted waste and transform your garden in no time.
Lawn Repair
If you have had any overgrown trees or hedges in your garden, the shadow they have been throwing over your lawn might have caused some bald patches. We are able to help you with those. Our gardeners will aerate the soil, fertilise it and overseed it. New grass will grow on those areas shortly after and there will be no sign of bald patches left.
Our gardening services are offered at low prices that are absolutely affordable. At the same time, we guarantee high quality and excellence.
We work with a team of professional gardeners, who know how to make your garden look better than ever and liven it up again. Our employees use the latest equipment, which, together with their knowledge and skills, helps them perform their tasks quickly and efficiently. We are available seven days a week, including holidays. Book us now!
We also offer:
Friendly and professional customer service, available 7 days a week for your convenience. The office agents are able to give you advice, help you with the booking process and give you a free quote over the phone.
Professional employees with a lot of experience. All members of our staff have a personal approach to the tasks they perform and have been professionally trained. They are reliable and will make sure to spare no time or effort.
High-quality products and equipment. We managed to invest in ourselves and all tools that our cleaners come with are the best on the market. They are extremely efficient and for your convenience – included in the price.
Eco-friendly products. All cleaning solutions that we use when performing any of our services are biodegradable, non-toxic and 100% safe for human health. We avoid using harsh chemicals so you can rest assured your children and pets will be safe.
Flexible working hours. All our teams are available 7 days a week, including all holidays. We know that most people nowadays are busy and we aim to fit everyone's schedule in the best way possible. Do not hesitate and call us.
Affordable rates. It has been our mission to create cleaning services that are available and affordable to anyone who might need them. We worked hard and now we are proud to offer you great quality services for reasonable prices.
Check our other services:
Deep Cleaning Cricklewood
Upholstery Cleaning Cricklewood
End Of Tenancy Cleaning Cricklewood
Carpet Cleaning Cricklewood
After Builders Cleaning Cricklewood
Oven Cleaning Cricklewood
To receive more information feel to call 020 3745 5245. Our call centres work every day of the week, including all holidays. The office agents there will be able to assist you in every way and give you a free quote over the phone.