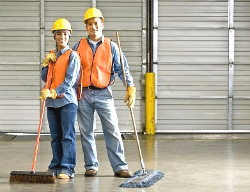 It's very disturbing to finish renovating your place but not be able to see its new look because the whole place is still dirty and messy. To enjoy your remodelled place, briefly after it has been repaired, use professional after builders cleaning services.
The complicated process of constructing or renovating a place ends with thorough cleaning, which is not as simple as it may seem. Cleaning up your residential or commercial place after it has been renovated is absolutely necessary but it requires a lot of time to cope with. If you use professional after builders cleaning services, the whole process of cleaning up will be like a piece of cake.
Several years ago, Cleaners Cricklewood was created in order to provide customers with excellence in cleaning. It is situated in Cricklewood and has always worked hard to offer the highest quality at the lowest prices in the city.
After Builders Cleaning
Prices
After Builders Cleaning
from

£20

/h
"Thanks again for your wonderful after builders cleaning service. You really did wonders on our recently refurbished flat and we are so proud of the outcome. We'll make sure to recommend you to anyone who needs reliable cleaning services." – Nathan
Builders Cleaners Cricklewood
To clean up your place after it's been remodelled, you might need some special equipment. You also need to have lots of time on your hands, so that you can clean the entire place in detail. It is important to take extra care when performing this type of cleaning since the fine dust and dirt left after the builders can be very harmful to human health. Use professional after builders cleaning services and you won't have a problem enjoying a perfectly clean place.
The reason why we are so successful is that we only work with experienced professional technicians that are qualified to perform the task in hand. We provide all of them with detailed checklists, customised according to the type of renovation, the size and the condition of the property. All of them come equipped with special, professional tools that are able to handle the fine industrial dust and waste and fully remove it from all corners of your home. Keep in mind that no matter how hard you try to protect your furniture and other spaces around the house, the dust and dirt after the builders always finds its way. Here is what we usually cover when performing this service:
We will dispose of all heavy, solid waste ( bricks, stones, plaster, rubbel, timber, metal frames, tiles etc.)
Dust, dirt and scuff marks will be removed. Any construction can be tough on your floors and walls. We will take care of those delicate surfaces and clean them with special solutions.
Your appliances will be thoroughly cleaned. Layers of dust are most likely left behind after the renovation project. We will remove those and provide thorough vacuuming, dusting, polishing and disinfestation of all appliances and surfaces.
Your baseboards, door frames and shelves are particularly vulnerable to construction dirt. These areas require a more delicate approach. We are able to remove all paint, stains and other marks without damaging their surface.
All hard surfaces and tiles will be scrubbed. Concrete, paint and grout can be found on any of the hard surfaces around your house. We are able to perfectly clean them and improve the finished look of your place.
Your upholstery, carpets and curtains will be vacuumed. No matter how many layers of protective plastic sheets you placed, your carpets and upholstery will need this. We use industrial vacuums to ensure the proper removal of all dust. Steam cleaning is available when needed, upon request.
Our cleaning agency is one of the most respected ones in London. It has thousands of supporters, who constantly use the cleaning services we provide. A professional cleaning staff will remove all dirty signs of renovation and will help you see your improved home much more quickly.
The process of renovating can't be completed without cleaning the entire place. And this is a very disturbing fact to many people. Fortunately, Cleaners Cricklewood specialises in it and has been offering ideal after-builders cleaning services for many years. The detergents that are used are biodegradable and absolutely safe for your health. All dust will be removed with antistatic wipes that will prevent it from flying around and building up shortly after. Don't hesitate to call.
We also offer:
Friendly and professional customer service, available 7 days a week for your convenience. The office agents are able to give you advice, help you with the booking process and give you a free quote over the phone.
Professional employees with a lot of experience. All members of our staff have a personal approach to the tasks they perform and have been professionally trained. They are reliable and will make sure to spare no time or effort.
High quality products and equipment. We managed to invest in ourselves and all tools that our cleaners come with are the best on the market. They are extremely efficient and for your convenience – included in the price.
Eco-friendly products. All cleaning solutions that we use when performing any of our services are biodegradable, non-toxic and 100% safe for human health. We avoid using harsh chemicals so you can rest assured your children and pets will be safe.
Flexible working hours. All our teams are available 7 days a week, including all holidays. We know that most people nowadays are busy and we aim to fit everyone's schedule in the best way possible. Do not hesitate and call us.
Affordable rates. It has been our mission to create cleaning services that are available and affordable to anyone who might need them. We worked hard and now we are proud to offer you great quality services for reasonable prices.
Check our other services:
Deep Cleaning Cricklewood
Gardening Services Cricklewood
Upholstery Cleaning Cricklewood
Carpet Cleaning Cricklewood
End Of Tenancy Cleaning Cricklewood
Oven Cleaning Cricklewood
To receive more information feel free to call 020 3745 5245. Our call centres work every day of the week, including all holidays. The office agents there will be able to assist you in every way and give you a free quote over the phone.